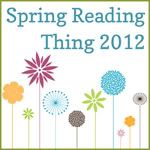 In the past few years, I've only joined Callapidder Days' Fall Into Reading Challenge as Spring is always a very busy time for me with the girls' school and all the events they have going on before the end of the school year. This year, I decided to give Spring Reading Thing 2012 a try. I'm not going to go all crazy with my list so I'm going to keep it short and sweet.
BEAR MEETS GIRL by Shelly Laurenston
SIERRA FALLS by Veronica Wolff
WORTH THE SCANDAL by Karen Erickson
MOON BURNING by Lucy Monroe
FINDING CHRISSTEN by N.J. Walters
If you want to join in on the fun, click the image above & it's take you to the site that is hosting this challenge.